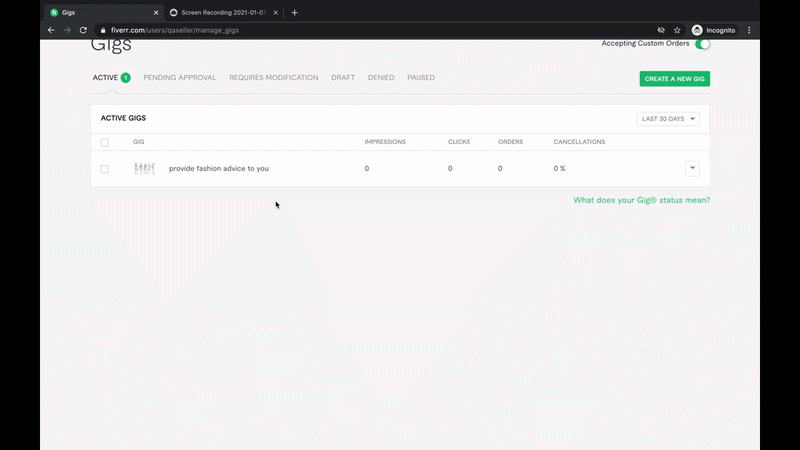 If you find yourself very busy or are unable to handle a large number of orders received, you have the option to set a limit on the number of orders you can receive. This will allow you to manage orders while continuing to provide your Buyers with exceptional service.

To limit the number of orders in your queue:
Log in and, from the Selling menu, click on Gigs.
To set an order limit for yourself, click on the Gig's title.
Beneath the GIG STATUS and GIG INFO, you will see the LIMIT ORDERS IN QUEUE feature. Activate it by clicking on it, and it will go from white to green.
Set your Max orders in queue by typing in your preferred order limit number. Make sure to set the number of orders you can handle successfully.
You also have the option to keep the direct link to your Gig active. This will allow returning Buyers, or anyone with a direct link to your Gig, to still be able to purchase your Gig. To activate, click on Keep direct link active and make sure the button goes from white to green.
Notes: By using this feature, you can control the number of orders you can receive. Once the limit you set is reached, your Gig will temporarily be removed from Fiverr's search, meaning that Buyers will not see your gig when they look for the service.
If you choose to disable this feature, your Gig will return to Fiverr's search (approximately 15 minutes later).
Using this feature does not affect your ranking or ratings.
This feature does not prevent Buyers from placing orders in previous Custom Offers.